What Happens if Water Damage Restoration is Ignored?
9/1/2021 (Permalink)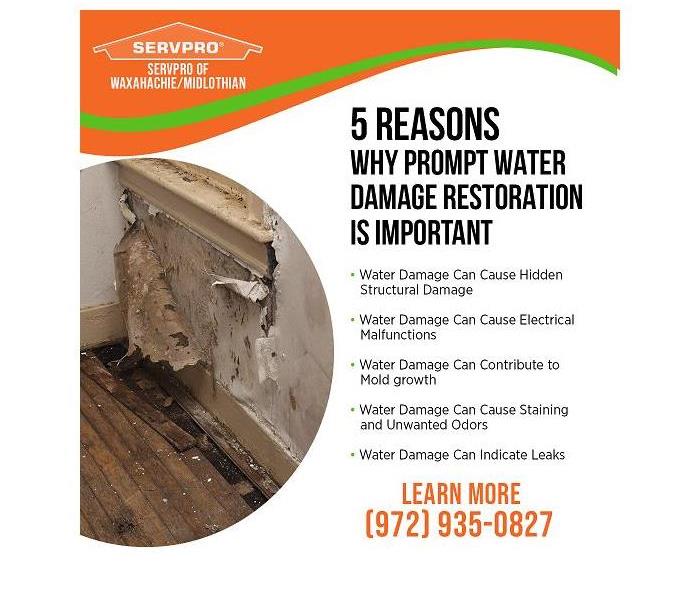 Blog Summary: The experts at SERVPRO of Waxahachie / Midlothian, a leading water damage restoration company, detail five reasons why the water removal process should never be delayed or ignored.
If a home or business suffers water damage, time is of the essence. While some water damage might seem insignificant at first, delaying or ignoring the water damage restoration process can have costly consequences.
The professionals at SERVPRO of Waxahachie / Midlothian, a leading water damage restoration company, recommend beginning the water removal process as soon as possible and offer five good reasons to do so.
5 Reasons Why Prompt Water Damage Restoration is Important
#1 Water Damage Can Cause Hidden Structural Damage
Water damage isn't always out in the open where home and business owners can easily see it. Sometimes, the damage is hidden beneath flooring or inside drywall. Wooden beams and drywall that are left wet will warp, rot, and eventually break apart, potentially causing thousands in additional repair labor.
An experienced water damage restoration company can locate and address this structural damage before it causes additional issues. These professionals have tools to detect and remove water from non-visible areas.
#2 Water Damage Can Cause Electrical Malfunctions
Moisture from rainstorms, flooding, and leaks can contribute to electrical malfunctions. Electrical components like sockets, fuses and circuits can be damaged, leading to severe and potentially dangerous situations for everyone in the building. Removing any moisture promptly can reduce the chances of electrical damage and potentially even fires.
#3 Water Damage Can Contribute to Mold Growth
The moisture from ignored water damage can contribute to the growth of mold in as little as 24 to 48 hours. Mold can cause health effects for anyone, but especially children, elderly folks, and those that have respiratory issues. Home and business owners can rely on water damage restoration services to find and remediate the mold situation to bring peace of mind.
#4 Water Damage Can Cause Staining and Unwanted Odors
When water damage is ignored rather than dealt with immediately, it can cause stains and odors. While these issues might not be dangerous, they can make a space feel unwelcoming at the least or be an indicator of potential mold, as previously mentioned.
Water damage restoration involves the use of specialized tools to remove stains. Most restoration companies also include deodorization with their services to help remove the unwanted odors caused by water damage.
#5 Water Damage Can Indicate Leaks
Leaks are among the most common causes of water damage. Water pipe leaks can begin small and nearly unnoticeable. However, these leaks can increase substantially over time. Addressing water damage will require finding these small leaks and repairing them, which, in turn, prevents them from escalating to bigger problems.
Even if a known leak is present, there's always a possibility of additional damage in the line that a plumber may not spot. Water damage restoration specialists have the skills to notice patterns that suggest multiple leaks.
About SERVPRO of Waxahachie / Midlothian
The professional and experienced team at SERVPRO of Waxahachie / Midlothian provides prompt, 24-hour water damage restoration services across Ellis County, TX. They also offer storm damage restoration, fire restoration, and mold remediation. Call (972) 935-0827 or follow SERVPRO of Waxahachie / Midlothian on Facebook to learn more.
Contact Information:
SERVPRO of Waxahachie / Midlothian
3650 S Hwy 287
Waxahachie, TX 75165
acarey@SERVPRO10932.com