What Are Some Common Workplace Fire Hazards in an Office Building?
9/1/2021 (Permalink)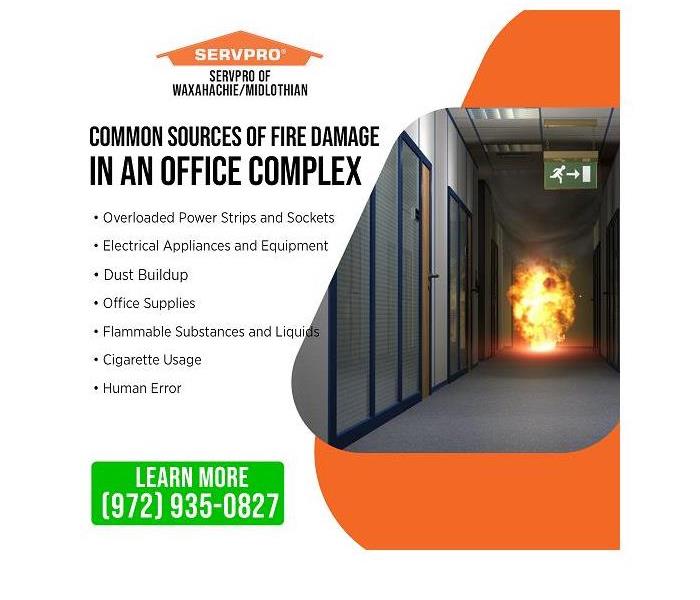 Blog Summary: SERVPRO of Waxahachie/Midlothian highlights factors that can lead to a fire damage disaster in an office building.
Commercial fire damage is a concern for office complexes in Midlothian, TX. Business owners and property managers want to make sure that their facilities do not fall victim to the devastating effects of a fire.
According to a report from the National Fire Protection Association (NFPA), "During the five-year period of 2007-2011, NFPA estimates that U.S. fire departments responded to an average of 3,340 fires in office properties per year. These fires caused an annual average of four civilian deaths, 44 civilian fire injuries, and $112 million in direct property damage. The vast majority of the fires in this category were in business offices."
The report, entitled "U.S. Structure Fires in Office Properties," went on to offer the following observations: "Fewer fires occur in this occupancy on the weekends since they are less likely to be fully populated. The peak times of day for these fires were between noon and 2:00 p.m. Less than one-third of the fires (31%) occurred between 7 p.m. and 7 a.m., but these fires accounted for 67% of the direct property damage. Similarly, 19% of fires occurred on weekends, but these incidents caused 31% of the associated property loss."
A foundational aspect of fire safety is identifying potential fire hazards in a facility. Listed below are common sources of fire damage in an office complex.
Overloaded Power Strips and Sockets
When a power strip or electrical socket is overloaded, it can overheat and cause a fire. Use only one plug per electrical socket. Frontier Fire, a fire protection company, provides the following advice: "...you shouldn't use more than 13amps or 3000 watts per power socket." Also, beware of worn or malfunctioning extension cords.
Electrical Appliances and Equipment
Regularly check electrical devices for damage and wear. When these devices are not in operation, make sure they are turned off and unplugged. Do not let clutter accumulate near electrical equipment and keep paper and other combustible materials away from electrical devices.
Dust Buildup
Dust buildup can be an easily overlooked fire hazard. Clean up dust regularly, including in crevices and places that are out of sight. Be sure to keep dust away from devices that heat up as they are used, such as computers or microwaves.
Frontier Fire notes, "If there isn't proper ventilation in your building and a fire occurs, the dust and debris can cause an explosion. That's why you should always keep your office building clean. It's also a good idea to invest in extraction fans, which can help clear the dust out of the air."
Office Supplies
Materials like paper, plastic, and cardboard burn easily and enable fires to quickly ignite and spread. Keeping the workspace clean is a simple but effective fire prevention strategy. A corporate culture of tidiness and organization also ensures that the facility is easy to navigate and that exits are not blocked by clutter.
Flammable Substances and Liquids
A flammable liquid, a stack of copy paper, and a single spark can be a deadly combination. Flammable substances should be kept away from potential ignition sources. Store these substances in a cabinet or closet that is dry, ventilated, and securely locked. If a combustible liquid is spilled, the spill should be thoroughly cleaned up without delay.
Cigarette Usage
Careless smoking practices are a significant fire hazard, and an improperly extinguished cigarette can quickly ignite flammable materials. The office complex should set aside a designated smoking area located at a safe distance from the building and equipped with receptacles and ashtrays that smokers can safely deposit their cigarettes into.
Human Error
Human error and negligence on the part of the office building's occupants are a real concern, especially when it comes to food preparation. The NFPA report mentioned above notes that over one in four office fires resulted from cooking equipment, and "over one-fifth (22%) of the reported fires in office properties began in the kitchen or cooking area…" The risks of human error can be combated by educating office personnel about the importance of paying attention to fire hazards and acting in a safe and responsible manner.
How to Deal with Commercial Fire Damage
From a preventative standpoint, business owners can make sure that proper safety strategies are implemented, including smoke alarms, sprinkler systems, and fire escape equipment. The property manager may also want to secure the services of a fire protection company to analyze the building's current fire safety protocols and systems and to inspect the premises for any potential fire hazards. Also, knowledge of fire safety tips, as well as the building's evacuation plan, are indispensable for the office building's occupants.
Once fire damage has occurred in the workplace, business owners do not want to find themselves caught in a situation where they have to choose a damage restoration company in the immediate aftermath of a fire damage disaster. The best approach is to prequalify a commercial fire damage restoration company before disaster strikes so that the business owner only has to make one call to the prequalified company in the event of fire damage.
For more details and information about Red Oak, TX, fire damage restoration services, contact SERVPRO of Waxahachie / Midlothian by email at acarey@SERVPRO10932.com. The office can also be reached by phone at (972) 935-0827.