Five Safety Tips to Prevent a Gas Leak From Turning Into a Fire Damage Disaster
10/26/2021 (Permalink)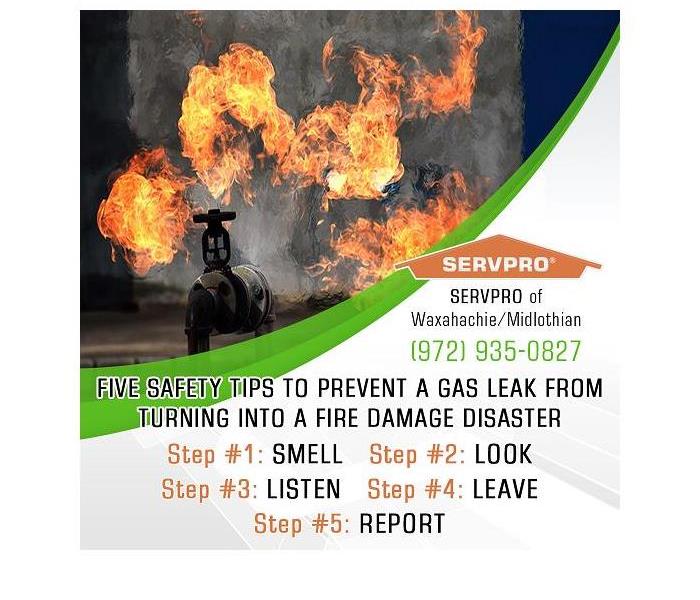 Headline: The Importance of Gas Leak Fire Safety to Prevent Devastating Fire Damage
Blog Headline: Five Safety Tips to Prevent a Gas Leak From Turning Into a Fire Damage Disaster
Summary: SERVPRO of Waxahachie/Midlothian shares safety strategies for people to follow when dealing with a gas leak.
Blog Summary: SERVPRO of Waxahachie/Midlothian advises property owners to follow five safety practices when faced with a natural gas leak. These practices will help keep everyone safe and prevent a devastating natural gas fire.
SERVPRO of Waxahachie/Midlothian is prepared for any size and type of disaster, including a fire damage disaster resulting from a natural gas leak. A fire involving natural gas is potentially explosive in nature and can cause substantial property damage in seconds. Homeowners need to be able to identify a natural gas leak emergency and how to respond quickly and safely to save lives and property. Here are five easy steps to stay safe and prevent a fire during a natural gas leak emergency.
Step #1: SMELL
Is there a rotten egg or sulfur smell? In its original state, natural gas is odorless and colorless. Natural gas companies add a harmless chemical called mercaptan to the gas, giving it a noxious, rotten egg smell. The sulfur-like odor alerts the nose so that the homeowner knows of the gas leak even if the leak is minuscule and pressure in the line is low. Typically, the pressure in the natural gas line in a structure is about 1/4 psi. This pressure level may seem low. However, if left unchecked, a small leak can destroy a home or business if ignition occurs. Natural gas is a cost-effective, plentiful, and safe form of energy, but usage requires attention on the part of the property owner.
Exposure to a natural gas leak may lead to serious health effects. Anyone, especially children and the elderly, exposed to a gas leak and experiencing symptoms should seek immediate attention from a health care provider. Pets may react to exposure to natural gas and show signs of health effects as well.
Step #2: LOOK
Once alerted to a possible rupture or leak in the natural gas pipe, look for damaged piping inside the residence or business. Piping can be damaged during construction, demolition, remodeling, or while installing a new gas appliance such as a stove, clothes dryer, or HVAC unit with natural gas heating.
If the inside inspection fails to turn up any clues, then look outside. Are there any signs the ground has been disturbed from the street connection to the meter at the structure? Boring, drilling, trenching, and grading can damage a natural gas line or other underground utilities. Planting or transplanting trees or shrubs can also damage utilities, including the gas line. Large shrubs and trees may require as much as a 48-inch hole for planting, and a hole of this depth is deep enough to damage or sever utilities.
A word of caution: most municipalities require underground utilities to be located and marked by approved providers before any blasting, boring, drilling, trenching, or digging begins on a property. Failure to comply can lead to stiff penalties. The repair of any damaged utilities is the responsibility of the property owner or the entity contracted by the property owner. Service interruption to neighbors, businesses, institutions, or other commercial or governmental agencies may result in litigation against the party damaging the utility. Property owners are advised to hire companies that are bonded, insured, and licensed.
The SERVPRO of Waxahachie/Midlothian professionals are trained, certified, and experienced in fire damage restoration and other types of property damage restoration. When a restoration project requires demolition, remodels, and rebuilds, the technicians and subcontractors follow safety protocols and carefully adhere to building codes and regulations. SERVPRO of Waxahachie/Midlothian is bonded, insured, and licensed to perform damage restoration services for homes, businesses, institutions, and other commercial entities.
Step #3: LISTEN
Once alerted to a possible leak by the presence of the rotten egg smell, listen for a blowing or hissing noise. As mentioned above, the psi of gas lines inside the home is small. However, the gas flow is strong enough to make an audible noise.
Step #4: LEAVE
If a natural gas leak is suspected, leave the structure immediately. Pay close attention to the critically important safety practices listed below:
Do not place or receive a cell phone or landline call inside the structure.
Do not use matches to light a candle or lamp.
Do not turn off light switches.
Do not open an automated garage door.
Do not attempt to identify the exact location of the leak.
Do not take the time to shut off the gas valves or meter.
LEAVE THE BUILDING.
Step #5: REPORT
The top priority is to safely evacuate the structure. Once everyone has exited the building and is at a safe distance, call 9-1-1 and report the gas leak to the proper authorities. Then call the emergency telephone number of the natural gas provider to the structure. There is no charge or cost to a customer to respond to a suspected gas leak.
To ensure safety, install smoke alarms, natural gas detectors, and CO2 detectors in the home or business. Personal safety and peace of mind are worth the expense and battery maintenance. Consult the local fire department for advice on selecting any of these devices.
When faced with a fire, smoke, and water damage disaster, call in the pros at SERVPRO of Waxahachie /Midlothian. A natural gas fire can cause severe damage in a split second. The SERVPRO technicians are trained, certified, and experienced in cleaning up a fire and smoke damage disaster. They have the equipment, training, safety gear, and cleaning techniques and solutions to quickly and safely restore the damaged area.
For more information about fire damage restoration services in Red Oak, TX, contact the office by phone at (972) 935-0827. SERVPRO of Waxahachie /Midlothian can also be reached by email at acarey@SERVPRO10932.com.