Fire Prevention Strategies for Midlothian, TX, Senior Care Centers
5/23/2022 (Permalink)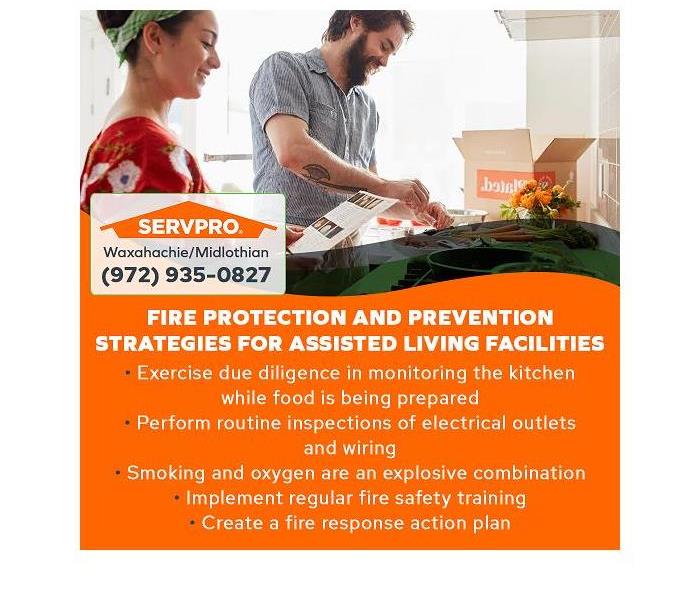 Blog Summary: SERVPRO of Waxahachie/Midlothian explains five tips that help prevent fire damage in senior living centers in the Midlothian areas.
The prevention of fire damage in an assisted living center is vitally important for the safety of residents and staff. The team at SERVPRO of Waxahachie/Midlothian lives and works in the local community. When neighbors, including residents in an assisted living center, suffer fire damage, the SERVPRO professionals can quickly restore the damaged property.
Statistics That Illustrate the Need for Fire Damage Prevention
America has a growing "graying" population. There are nearly 50 million seniors over the age of 65, according to the US Census Bureau. The National Center for Assisted Living provides the following insight on assisted living centers in the United States: "There are approximately 28,900 assisted living communities with nearly 1 million licensed beds in the United States today."
A typical resident in an assisted living facility could be an 87-year-old woman needing assistance with two or three activities of daily living, such as medication management, bathing, and dressing.
Texas has over 1,300 assisted living communities with almost 49,000 residents. The average size center serves 29 people. A breakdown of services provided by these centers offers a glimpse into the daily lives of the residents and the caregivers who faithfully meet these needs:
46% are over the age of 85
58% need help with bathing
66% need help with walking
46% need help with dressing
30% need help with bed transfer
These insights illustrate the special care assisted living facilities provide for residents who are not able to take care of themselves. Reliable fire prevention is a top priority since many residents have mobility and memory issues that limit their ability to respond to a fire emergency without assistance.
Fire Protection and Prevention Strategies for Assisted Living Facilities
Life in an assisted living center affords residents a wide range of independence. Assistance levels may be nominal or intensive, depending on the desires and needs of the residents. Fire prevention is a priority. Below are six core strategies to ensure fire safety in a healthcare facility.
1. Exercise due diligence in monitoring the kitchen while food is being prepared.
Cooking equipment is the top cause of fires in healthcare facilities. The peak hours for fire damage are 8:00 AM and 4:00 PM, the peak hours for food prep. Thankfully, most kitchen fires are confined to the appliance and the kitchen.
Keep appliances, grease traps, grills, and grill ducts clean.
Store flammables away from cooking equipment.
Regularly inspect electrical cords for damage.
Maintain fire extinguishers.
Train and drill staff in the fire safety plan.
2. Perform routine inspections of electrical outlets and wiring.
Unlike cooking fires which typically do not spread beyond an appliance or the kitchen, electrical fires are pervasive. Twenty percent of fires that spread beyond the point of origin were caused by circuit overloads or faulty wiring. As much as possible, avoid using extension cords.
3. Smoking and oxygen are an explosive combination.
Seniors often use oxygen tanks for various health conditions. Oxygen tanks should never come in contact with fire or sparks, such as from a lit cigarette. If the campus is not smoke-free, staff should smoke outside in a designated area at a safe distance from the facility.
4. Implement regular fire safety training.
Healthcare facilities have layers of policies and regulations covering every conceivable contingency. A lack of staff awareness is often the origin of a citation or an actual fire event.
5. Create a fire response action plan.
Senior care centers must develop and distribute a fire safety plan. The plan details action steps in the event of a fire. Knowledge and drilling will help workers to remain calm and follow the proper procedures in the event of a fire.
SERVPRO of Waxahachie/Midlothian can be a trusted partner in the development of an Emergency Readiness Plan that includes pre-qualifying a dedicated damage restoration provider in the event of a fire or other property damage disaster. A rapid fire damage cleanup process is crucial considering the unique needs of the residents and the limited options should a fire damage disaster require the facility to be vacated during the cleanup and restoration process.
To learn more about Midlothian, TX, fire damage restoration, contact SERVPRO of Waxahachie/Midlothian by calling the office at (972) 935-0827 or by emailing acarey@SERVPRO10932.com