How SERVPRO of Waxahachie/Midlothian Provides Property Damage and Cleaning Solutions for Carpet Odors
8/11/2022 (Permalink)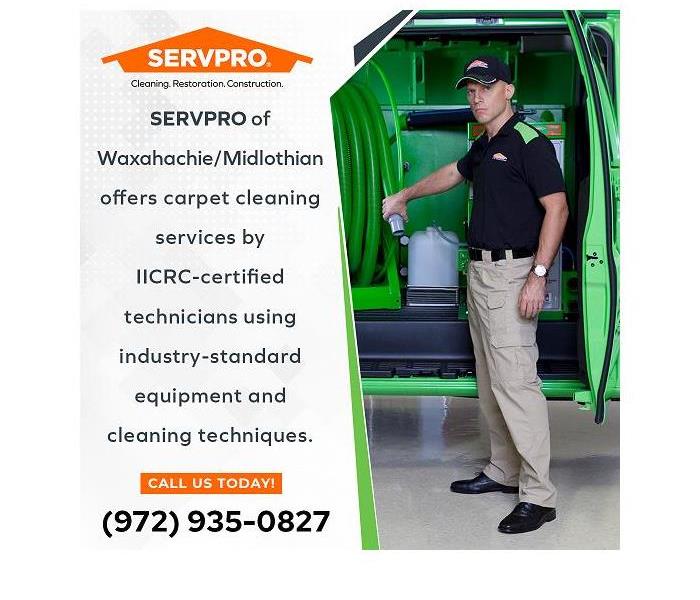 Blog Summary: The team at SERVPRO of Waxahachie/Midlothian provides deodorization solutions for carpets in Midlothian, TX, homes.
The water damage repair specialists at SERVPRO of Waxahachie/Midlothian highlight common causes of carpet odors and what to do about these unpleasant smells. The question must be asked, "What is causing the carpet to smell?" Do not be lulled into thinking that just because food and drink spills and puppy "accidents" are immediately cleaned up that the carpet will not smell. There are other causes of carpet odors that homeowners might not be aware of.
A Leading Cause of Carpet Odor: Moisture
Is there a musty, mildewy smell in the home? It could be the water and moisture in the carpet. Common sources of wet and moist carpeting include:
naturally occurring humidity in the air from moisture-laden weather patterns such as a tropical storm or the remnants of a hurricane
moisture from multiple showers and baths for the family each morning or evening
excess water dripping from indoor plants, rain-soaked pets, or kids coming into the home from playing in the pool or under the sprinklers
leaks around windows, doors, and the chimney
leaks from window AC units or the condensate pan of the HVAC system
flooding during a stalled thunderstorm or weather system
a spilled beverage
The carpet and padding will thirstily soak up the moisture. If the moisture and wetness in the carpet are not immediately dried out, mold, mildew, and a host of pathogens can grow in the carpet, causing it to have a musty, mildew smell.
The smell may go unnoticed after a few minutes in the home because the residents' sense of smell will become accustomed to the odor and disregard it. The smells may only be noticed after the homeowner returns home from a vacation. The musty odor is a key indicator of a mold issue in the carpet. Other clues or warning signs of mold and mildew in the carpet may include frequent dampness and discoloration.
Mold, mildew, and other pathogens will begin to grow in damp carpeting in a day or two. Mold, if left untreated, will eventually discolor the carpet. Look for black, green, or white splotches that are not part of the carpet's color pattern.
Solutions to Carpet Odors
Inspect the home for leaks and resolve any issues that are discovered, such as roof leaks, chimney leaks, clogged gutters, missing or damaged siding, leaky windows and doors, leaky faucets, sewage drain pipe leaks, leaky showers and tubs, and leaky toilets.
Repair or replace structural damage, such as rotted wood, warped or buckling flooring, swollen baseboards, and unsalvageable carpet and padding.
Install a moisture barrier in the crawl space. Install a heavy-duty dehumidifier and a sump pump if needed. The level of difficulty for this solution is generally well above a DIY project. Equipment selection and installation require experience in plumbing, wiring, and possibly foundation repair.
Set boundaries for eating and drinking in carpeted areas of the home. When a spillage occurs, clean it up immediately.
Clean up pet accidents as soon as they occur. Sanitize and deodorize the area, as well.
Make sure exhaust fans in the bathrooms and over the stove are working. Older fans may need replacing. Install new fans that are strong enough to handle the moisture levels in the bathrooms and kitchen.
Inspect the dryer to ensure the hot, moist air is vented outside the home. A leak in the dryer vent can dramatically increase moisture levels in the house.
Install a whole-house dehumidifier or purchase a room dehumidifier and run it during periods of high humidity in the weather or when cooking, bathing, and showering are driving up the humidity levels in the home.
Finally, once water leaks have been resolved and moisture levels are under control, have the carpet cleaned, disinfected, and deodorized by a professional carpet cleaning company with a solid reputation and proven results. After examining the carpet, the technician may recommend the carpet be replaced in order to achieve satisfactory results.
Other Causes of Carpet Odors
Carpets give off odors for reasons other than moisture and mold. Repeated food spillage, recurring pet accidents, smoke from cigarettes of a fire, and aging carpet material cause the carpet to smell. A quick cleanup can take care of most food particles. A reputable carpet-cleaning professional can take care of pet urine and feces. Carpets smothered in smoke from cigarettes or a fire can be effectively cleaned and deodorized. However, the interior of the home, including walls, doors, cabinets, bare floors, and ceilings, must be cleaned as well, or the house will still smell. Aging carpet and padding need to be replaced since mold could be growing underneath the carpet and padding.
SERVPRO of Waxahachie/Midlothian has been serving the area since 2000. They offer a wide range of property damage cleanup and restoration services, including water damage cleanup and professional carpet cleaning services by IICRC-certified technicians using industry-standard equipment and cleaning techniques.
To learn more information about SERVPRO of Waxahachie/Midlothian's deodorization, mold remediation, and water damage restoration services, contact the office by phone at (972) 935-0827 or email acarey@SERVPRO10932.com