Five Ways to Prepare for Winter Storm Damage That Leads to Power Outages
11/8/2022 (Permalink)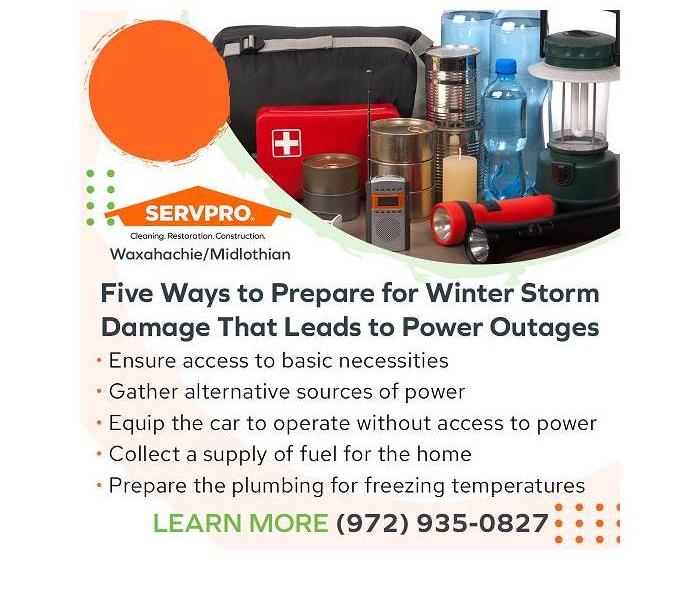 Blog Summary: SERVPRO® of Waxahachie/Midlothian outlines five ways to prepare for winter storm power outages that could potentially lead to water damage and fire damage.
A winter storm can cause power outages that lead to a myriad of difficulties, including potential fire and water damage. By applying the information in the tips listed below, local homeowners can take steps to prepare before the storm hits so that they put themselves in a better position to recover after the storm passes.
Ensure access to basic necessities
Homes that are not connected to a municipal water supply will not be able to continue to provide water in a power outage. Well pumps do not operate without electricity, so homeowners who use well water will need to have an adequate supply of bottled water on hand. If the forecast gives enough warning, the homeowner can also fill up the washing machine and bathtub to provide extra water sources for bathing, cleaning dishes, or using the toilet.
A stock of nonperishable food items is also essential, especially in the case of an extended outage that leaves a household unable to cook or keep food fresh. Nonperishable foods include:
nuts
seeds
dried fruit
peanut butter or nut butters
canned fruits, vegetables, and meat
chips and crackers
granola bars and energy bars
civilian or military surplus ration packs
freeze-dried meals
Purchase a manual can opener, as well as a backup.
Gather alternative sources of power
Stock up on a wide variety of batteries, from AAA batteries to D batteries to button cell batteries, depending on the needs of the home. Check to see which batteries are used in smoke detectors, medical equipment, flashlights, radios, clocks, and other essential appliances, and purchase plenty of spare batteries in the correct sizes and types. Add extra flashlights and battery-powered radios to the shopping list since these tools are indispensable in the event of power loss.
Equip the car to operate without access to power
When the meteorologist predicts severe winter storms in the forecast, make sure to fill up the gas tank before the power goes out. Gas pumps require electricity to operate, so if the fuel gauge on the car or truck reads at or near empty, it will remain empty until power is restored to the affected area.
Also, keep car chargers on hand to charge phones and devices so that the members of the household can access breaking news, outage updates, and relevant local information. Check to make sure that the car charger is compatible with the devices that will need to be charged.
Collect a supply of fuel for the home
BobVila.com, an online home and garden resource, offers the following recommendation: "Consider how you will stay warm if the power goes out. Even a gas-powered furnace requires electricity to run the fan that sends warm air through the vents. If you have a gas fireplace, consider installing a battery backup for the starter if it doesn't already have one. If you have a wood stove, stock up on firewood. Do not use a propane heater inside the home unless it is one specifically designed for indoor use; carbon monoxide can build up and create a deadly hazard."
Some homeowners may have access to a grill that they can use to cook meals. However, grills should never be used inside the home, and neither should candles. When cooking without power, abide by the same fire safety precautions that apply to cooking with power, such as the following safety tips:
Do not leave the cooking area unattended.
Remove flammable objects and substances, such as paper towels, dishcloths, wooden utensils, and lighter fluid, from the cooking area.
Never use water to extinguish a grease fire.
When burning wood to provide heating and cooking, remember that fire damage is a potential risk, so fire safety precautions are essential. Typically, smoke alarms are battery-operated, but if fresh batteries have not been installed recently, replace the batteries to ensure that the unit will be functional in the event of a fire. Also, consider purchasing a fire extinguisher and learning how to use it properly.
Prepare the plumbing for freezing temperatures
An extended power outage is bad enough, but if the home's water pipes are not well insulated, more trouble could arise when the power comes back on and the temperatures warm up. Frozen pipes can burst and crack, leading to a water damage disaster when the ice melts and water starts to drip or spew from the plumbing. To prepare the water pipes for a winter storm that will cause temperatures to drop to freezing, turn off the main water valve and allow all the faucets to drain until the pipes have been emptied.
Who to call when winter storms lead to property damage
In the event that fire damage or water damage occurs due to the conditions caused by a winter storm power outage, the local community can turn to SERVPRO® of Waxahachie/Midlothian to rapidly provide damage restoration services. The team is available 24/7/365, and the water damage restoration company can draw on the resources of the wider SERVPRO franchise to provide a clean-up and restoration solution for large loss incidents.
For more information about fire and water damage restoration in Red Oak, TX, call the office at (972) 935-0827 or email SERVPRO of Waxahachie/Midlothian at acarey@SERVPRO10932.com.