Water Removal and Cleanup Services for Water Damage Caused by Commercial Plumbing Issues
2/8/2023 (Permalink)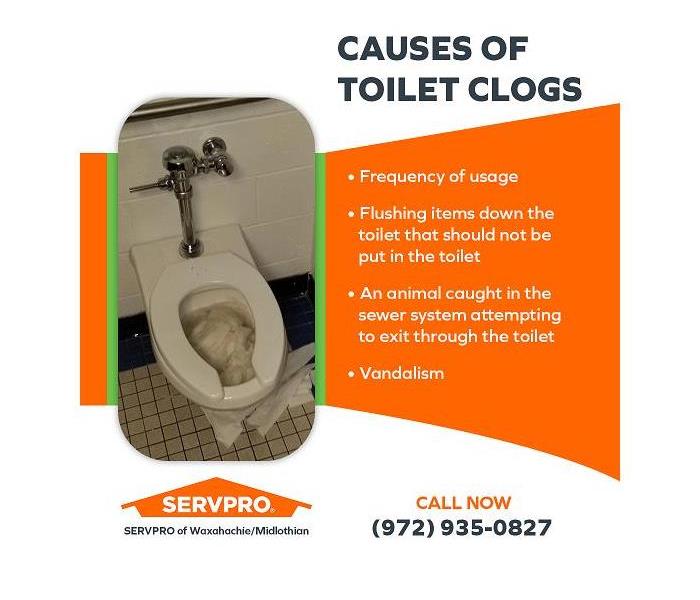 Blog Summary: SERVPRO of Waxahachie/Midlothian sheds light on common plumbing issues at commercial facilities. These plumbing issues can damage customer perception and cut into profits.
SERVPRO® of Waxahachie/Midlothian specializes in water removal, cleanup, and restoration. When raw sewage is involved in a water damage disaster, a thorough cleanup is crucial if the site is to be made sanitary and safe.
Any disruption of a business's revenue cycle negatively impacts its profitability. Common causes of business interruptions may include:
A major pandemic with widespread shutdowns, layoffs, and closings
Disruptions in the international supply chain
Worker shortages
Travel restrictions
Natural disasters such as hurricanes, tornadoes, and the February 2021 arctic blast
Water damage from natural and man-made causes
Any one of these challenges has the potential to shut down a small business. Recovery often requires a change in the economic climate or other factors beyond the control of the business owner.
Business owners, property owners, and facilities managers in Venus, TX, are vested in keeping their commercial buildings attractive, comfortable, safe, clean, and sanitary. The emphasis is on 'clean' and 'sanitary.' The recent pandemic has heightened national awareness of the necessity of keeping the office, shop, manufacturing unit, restaurant, retail outlet, church, school, or fitness center as pathogen-free as possible without endangering the health of the occupants with surface and airborne cleaning, disinfecting, and sanitizing chemicals. An area of concern often overlooked in the commercial and professional setting includes plumbing, septic, and sewage issues.
Employees, patrons, patients, and tenants exert tremendous pressure on a commercial plumbing system, and this continuous pressure creates new problems and amplifies any existing plumbing issues. A sewage backup in a professional office building, a school, or a daycare with a large clientele and multiple bathrooms on each floor can escalate into a catastrophe of epic proportions.
Commercial plumbing issues tend to be more expensive to repair and clean up. Multiple bathrooms and multiple floors expand the spillage zone, increasing the cost of cleanup. Work slowdowns or stoppages cut deeply into daily and monthly revenues. In fact, the loss of business may far exceed the actual costs to remedy the situation in the building.
The business owner, facilities supervisor, and property management company must keep a vigilant eye on the buildings under their care. Listed below are some of the most common plumbing issues that arise in commercial facilities.
A clogged toilet
A toilet clog is a common occurrence in the commercial world. Causes of toilet clogs include the following:
Frequency of usage
Flushing unnecessary items down the toilet
An animal (snake, rat, frog, or squirrel) caught in the sewer system attempting to exit through the toilet
Vandalism
If initial efforts with a plunger fail, contact a licensed, bonded, insured plumber to remove the clog or make any necessary repairs. Proper maintenance and scheduled cleaning will spot problems in their infancy when solutions are quick, easy, and relatively inexpensive. Delays can have the undesired effect of compounding the clog, increasing spillage, and offending the sensibilities of customers and employees.
If the janitorial staff is unable to handle an extensive spillage, bring in a professional property damage cleanup company to remove the contaminated water with heavy-duty wet/dry vacuums, reduce the moisture levels, and clean, disinfect, sanitize, and deodorize the affected areas. In a multi-story building, delays in removing the black water may allow the water to seep through the flooring and contaminate the commercial space under the toilets. Sewage is messy, smelly, and unsafe for everyone in the building. If the HVAC system is contaminated, the entire building may be negatively affected.
Drain clogs
A drain clog may not be as disruptive and annoying as a toilet clog. Items that can stop up the sink include paper towels, grease, oil, chemicals, food, or dirt and grime. If a customer, client, or employee accidentally leaves the water running, a water damage disaster could result. At seven gallons of water per minute, a faucet left running into a clogged sink can spill thousands of gallons of water per day into a commercial facility. If the water damage disaster is on an upper floor in a multi-story building, the entire operation could be shut down for days while the building is undergoing cleanup and restoration.
Do not let a sewage backup from a clogged toilet or an extensive water damage disaster from a water release shut the doors of the business and turn off profits. SERVPRO of Waxahachie/Midlothian can arrive on the scene in about an hour. If the damage is extensive, the SERVPRO franchise family can scale to any size disaster. Available 24/7, 365 days a year, including weekends, the team of IICRC-certified professionals provides a rapid response and quick cleanup to get the wheels of commerce back in motion. The SERVPRO staff can also effectively handle the insurance claims process from end to end.
For more information about Venus, TX, water removal services, contact SERVPRO of Waxahachie/Midlothian by phone at (972) 935-0827 or email at acarey@SERVPRO10932.com.